Over the past year and a half, it's clear that brands that provide more positive customer interactions tend to be more likely to weather common business crises. The COVID-19 pandemic is one example of an event where inspired customer service helped businesses survive and, in a few cases, even excel despite increased dining regulations, citywide curfews, and local shutdowns.
One way that businesses learned to adapt was through incorporating an omnichannel approach to the customer experience. Since each customer journey looks different, omnichannel solutions enable you to meet customers on their preferred communication channels, offer convenience, and encourage multiple sales pipelines. To learn about leveraging digital channels through an omnichannel approach to customer service, here's what you need to know.
1. Omnichannel solutions seamlessly connect channels.
If you want to improve aspects of your existing customer experience, you must have ways to review each customer interaction within the context of your greater business goals. For example, whether a customer uses social media live chat, sends an SMS, or dials into your call center, your sales agents and support team members must be able to view the service journey and address customer needs as they arise.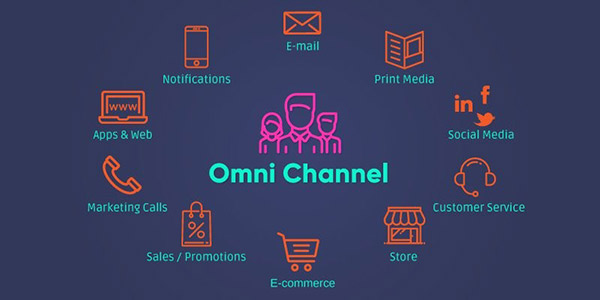 Without an omnichannel experience, you're really only able to review customer behavior as it occurs on your preferred channels. Plus, adding new channels and touchpoints is often cumbersome. When you factor in other integrations and functionality, an omnichannel contact center solution is the only option that provides a truly seamless experience. Whether you're gaining insights through a mobile app's remote access protocols or you're reviewing web chat analytics from a tablet or another mobile device, a multichannel contact center allows you greater freedom in how you interact with different channels and pipelines.
2. Omnichannel customer service solutions are more cost-effective.
Compared to traditional call centers, disparate systems, and legacy hardware, contact centers today require less overhead to set up and maintain. Instead of paying for expensive hardware, your contact center leaders, supervisors, and agents can use their own computers. As long as the agent has a strong internet connection and any required accessories, they can use omnichannel customer experience software to work with each shopper and caller that dials in.
Often, when you're talking omnichannel, you're looking at a subscription model. Many omnichannel platforms charge based on the number of channels you're using, the scope of your omnichannel strategy, and additional integrations, automation tools, or retail features. For example, some platforms allow you to manage customer journey information through mobile applications. Others boost customer engagement by routing shoppers to the best agent for their queries. A true omnichannel contact center often offers enough solutions to help enhance agent productivity and boost your bottom line, both of which help your business financially.
3. Omnichannel solutions enable you to map the customer journey.
If you're trying to improve customer satisfaction, agent performance, or customer engagement, it's important to take your strategies to the next level. It's also important to map what the ideal customer expectations look like and how your business can meet them. Whether this means investing in omnichannel routing tech that can connect shoppers to customer service agents regardless of their preferred channels or choosing workforce management tools that help review agent activity and how it impacts the customer journey, an omnichannel call center solution can help your business develop an optimized customer experience.
With the right omnichannel tools, it's easier to tweak contact center performance in real-time. You can implement automation tools, leverage chat bots, and review customer data to hone in on your best practices, match customer demands, and lead to a more positive customer experience.